Ruminations of light in the dark
Light is one of the most fascinating physical phenomena. Ask both a physicist and a chemist to explain what light is and the exchange will quickly turn into a metaphysical discussion. They would tell you light is electromagnetic radiation behaving both as a wave and a particle. They would state that nothing moves faster than light. That there is a large spectrum of light in the universe but that the human eye can only perceive a very limited amount of that range. To this they would add that the distance between each wave allows our eyes to create colour in our brains and that even when it is dark, light is still around us. In this sense, light is the only phenomenon that connects us with the universe, with space and with time because by studying the radiation of astronomical bodies, we can actually look back in time reaching to the beginning of existence itself.
This is all utterly fascinating and even more so, is the ungraspable search to understand light and the attempt to control it. I feel that this elusive understanding is sometimes felt within art as well. Just like devoted scientists, postmodernist artists have explored the boundaries of art so much that the result has been an alienation of the public and an emergence of a deceptively elitist art. However, the reality is that art has never been so universal and inclusive as it is today. I will not deny that non-representational art, abstract art, conceptual art (to mention a few) require some mediation but ultimately a movement like the Light and Space one of the 70s, explored universal concepts accessible by all. Surely there is nothing more universal than light, is there? And yet, nothing is more ephemeral and intangible than this 'medium'. Robert Irwin, Mary Corse, Helen Pashgian, James Turrel amongst others, preceded younger artists like the notable Olafur Eliasson. This succession of artists exploring the experiential characteristics of light, find a continuity in the work of dutch artist Tamar Frank.
In the heart of Coal Harbour, two south-facing towers at 1499 West Pender act as the surface for Frank's permanent light installation. The shorter 40-meter tower is synchronized to the daily 7pm cheer in Downtown Vancouver since March 13th, 2020. Right before 7pm one can normally hear a boat horn from the nearby harbour. The blast is followed by the 9 o'clock gun explosion (now also synchronized to 7pm) and then, a flood of pot-banging, euphoric yelling, clapping and car horns follow. With it, a quiet and discrete dance of light kindle the concrete chore of the east tower at West Pender Place where light performs before one's eyes until 11pm. The long duration of the program turns this installation more into a presence rather than a performance. However the light is in constant change. At 10pm when the sun is gone and the backdrop is dark enough, the eight-meter-long horizontal LED lines become red and start mimicking the motion of a heartbeat. Frank created this heartbeat to honour the continuity of life and the relentless fight that we have proved worldwide against the COVID-19 Pandemic
Although with artworks of this nature the 'brushstroke' of the artist is no longer evident, the 'hand' of the artist IS present nevertheless. Frank constantly monitors daylight in Vancouver either from data or by getting a reference from her contacts in Vancouver in order to make luminosity, pattern and colour adjustments in accordance to the continuous changes surrounding the work at West Pender Place. The inspiration behind this totemic light sculpture was the city's particular natural surroundings. The abundant mountains and water bodies that we as Vancouverites are so accustomed to, stunned Tamar who comes from a country known for its flat landscape. She used the angularity of mountains as a reference to create triangular shapes to withhold the gradual transition of coloured light which in turn represents the subtle chromatic changes of the seasons and the different times of the day.
We invite you to visit the work to notice first hand the captivating colour transitions that mimic nature's changes; from the cherry-blossom-pinks, to the saturated summer-greens, to the oranges and reds of autumn leaves. Like moss on a tree or coral on the ocean floor, Frank's installation is incorporated onto the concrete of the building that the structure nests the LED strips in a harmonious manner. Frank masters the interaction of light, space and surface in such a way that the installation becomes one with the architecture. Her work is not only site specific but also time specific and in constant change under her remote surveillance and programming. Normally Frank would be here in Vancouver, examining her artwork and fixing the 120-meter tower. But alas, COVID-19 travel restrictions. No matter thanks to remote control, she can still reschedule the program and modify the movement of the light.
Frank's light installations are something that you have to live firsthand because your own eyes and brain need to experience that magical retinal and cognitive process that we as humans are capable of doing. This necessary interaction goes hand-in-hand with the Light and Space movement ethos where the public's perception and participation is intrinsic to the practice.
"Light is everything for me since it is the medium I work with. I see it as the source of our visual perception. I like to study it in a way to bring new awareness on how this influences the way we relate to our environment and how we physically and subconsciously orient ourselves." — Tamar Frank
Tamar's work often distills the shapes, colours and patterns found in nature. The stripping down of natural phenomena into basic elements is characteristic of her work. In earlier works like in 'Breuklijn' (fault line) she captures the minerals in water with rusty orange light and represents the seismological waves caused by tremors with line patterns. The results are captivating artworks that evoke tranquility and invite the viewer to pause and become a participant. With light she creates a contemplative atmosphere to open up emotional narratives that include each and every one of us.
Capital Iron building part of 6.7 acres bought by Reliance; store to keep operating
Andrew Duffy | Times Colonist
Reliance Properties, which was behind the transformation of the Janion building on Store Street, has picked up nearly seven acres of downtown Victoria, including the site of the Capital Iron building, in a transaction expected to close by the end of this summer.
Reliance is acquiring from the Greene family, founders of Capital Iron, an assembly of property over two city blocks that was put together over more than 30 years.
The land includes the historic Capital Iron building and runs from the foreshore of Victoria's Upper Harbour east to Government Street, including the Capital Iron parking lot and adjacent commercial buildings at 1950 Government St.
Jon Stovell, chief executive of Reliance, said the deal has been months in the making, and being able to get it done during a pandemic speaks volumes for his firm's commitment to the city.
"We believe very strongly in this city and the future of this site," he said. "We have always taken a very long-term view of real estate. We are primarily a [real estate] holder and we're a big believer in Victoria and have built a significant portfolio there."
Reliance started investing in the city about 10 years ago. Its portfolio includes the Board of Trade building in Bastion Square, 780 Blanshard, the Fairfield Block, the Northern Junk buildings and the Janion.
Stovell said the appeal of the Capital Iron lands is not just the size — 6.7 acres, with only 93,000 square feet actually developed — but it scratches the company's itch for heritage redevelopment, offers the potential for a variety of uses and has 400 linear feet of waterfront.
"The Capital Iron site in the long run will have a lot of new buildings, but there are some very significant heritage buildings there at the heart of the site," he said.
Stovell said it's far too early to say what it will look like, though he said that Capital Iron will be staying put as will the heritage buildings.
"We are very early in the visioning process. The site is primarily focused on employment lands and I think that will continue to be the main focus," he said, though he did not rule out a residential component.
He said it would suit any number of uses ranging from industrial and marine, to cultural, educational, high-tech and retail.
"A whole variety of things are being looked at, but no matter what, it will be a mixed-use and highly diverse development," he said, adding it would also offer a variety of ways for pedestrians to navigate the site.
Dave Ganong, a veteran real estate adviser to the Greene family, said the family is pleased with the deal and think they have chosen the right company to steward the lands.
"Look at Reliance's background, they are one of the most highly regarded developers on the West Coast and across Canada.
"Ron [Greene] really wanted someone to be mindful of the legacy that would be left behind."
That Capital Iron will continue to operate was also important. The store was founded in 1934 by Morris Greene as a scrap business, but blossomed as a new-age general store known for its eclectic mix of hardware, housewares, camping gear and patio furnishings starting in the 1970s.
Morris turned over the store to his son, Ronald, in 1971, who handed it over to his daughter, Eveline, and her husband, Mike Black, in 1997.
Black made it clear they're not going anywhere.
"From a Capital Iron point of view, we will continue to operate and we're excited at the opportunity to work with Reliance. They have a good reputation in this town," he said. "The reality is, for us, it's the same cheque going to a different destination."
Black said Capital Iron has made a significant investment in improving its online presence and beefing up online business, a result of the pandemic. "I can assure you that is not a cheap investment and I wouldn't be doing that if we were going to close."
Stovell said that for the time being, it will be business as usual for all existing tenants, and he does not expect the development process to be quick. The parking lot will be redeveloped first, he said.
Stovell said he wants to be involved in shaping the future of the north end of downtown, what the City of Victoria is calling the Innovation District. He said Reliance won't make concrete plans until it has worked with the community and the city on what the vision for that area will look like.
Eight-storey condo building considered for East Hastings Street
Vancouver Courier
September 20, 2019
An eight-storey building could be coming to East Hastings at the corner of Semlin Street.
Dialog submitted a rezoning application on behalf of Reliance Properties for a mixed-use building with 131 market condo units for 1943 to 1967 East Hastings St., located directly across from Xpey' elementary school, which was formerly known as MacDonald elementary.
1166 W Pender: New 32-storey office tower approved for downtown Vancouver
Kenneth Chan | Urbanized Vancouver
July 10, 2019
In a public meeting on Tuesday, Vancouver city council unanimously approved a rezoning proposal to build a new 32-storey office tower that replaces the former location of the Canada Revenue Agency in downtown.
The proposal for 1166 West Pender Street, where an older 15-storey office building is currently located, was submitted by local developer Reliance Properties, and designed by Toronto-based Hariri Pontarini Architects and IBI Group.
Since the application was formally filed to the city last fall, some slight revisions were made to the design in terms of its size.
One additional office level was included, increasing the number of floors from 31 storeys (388 ft) to 32 storeys (399 ft), and the total floor area from 349,000 sq. ft. to 361,000 sq. ft. The resulting floor space ratio density on the 18,600-sq-ft property is 19.37 times the size of the lot.
The entire top level is dedicated as 8,900 sq. ft. of indoor amenity space for the building's tenants. The ground level also includes 5,700 sq. ft. of commercial space that is intended as a restaurant.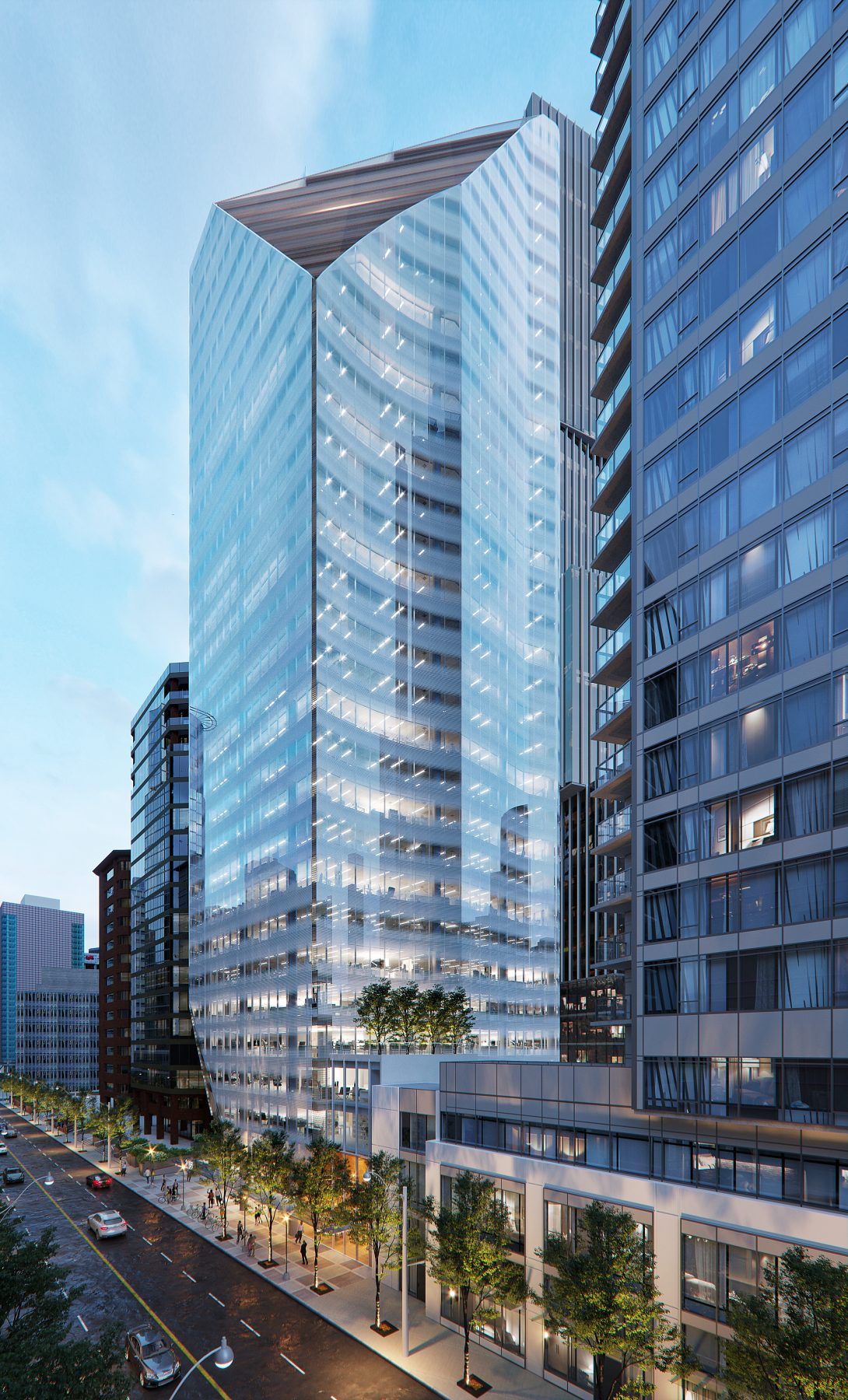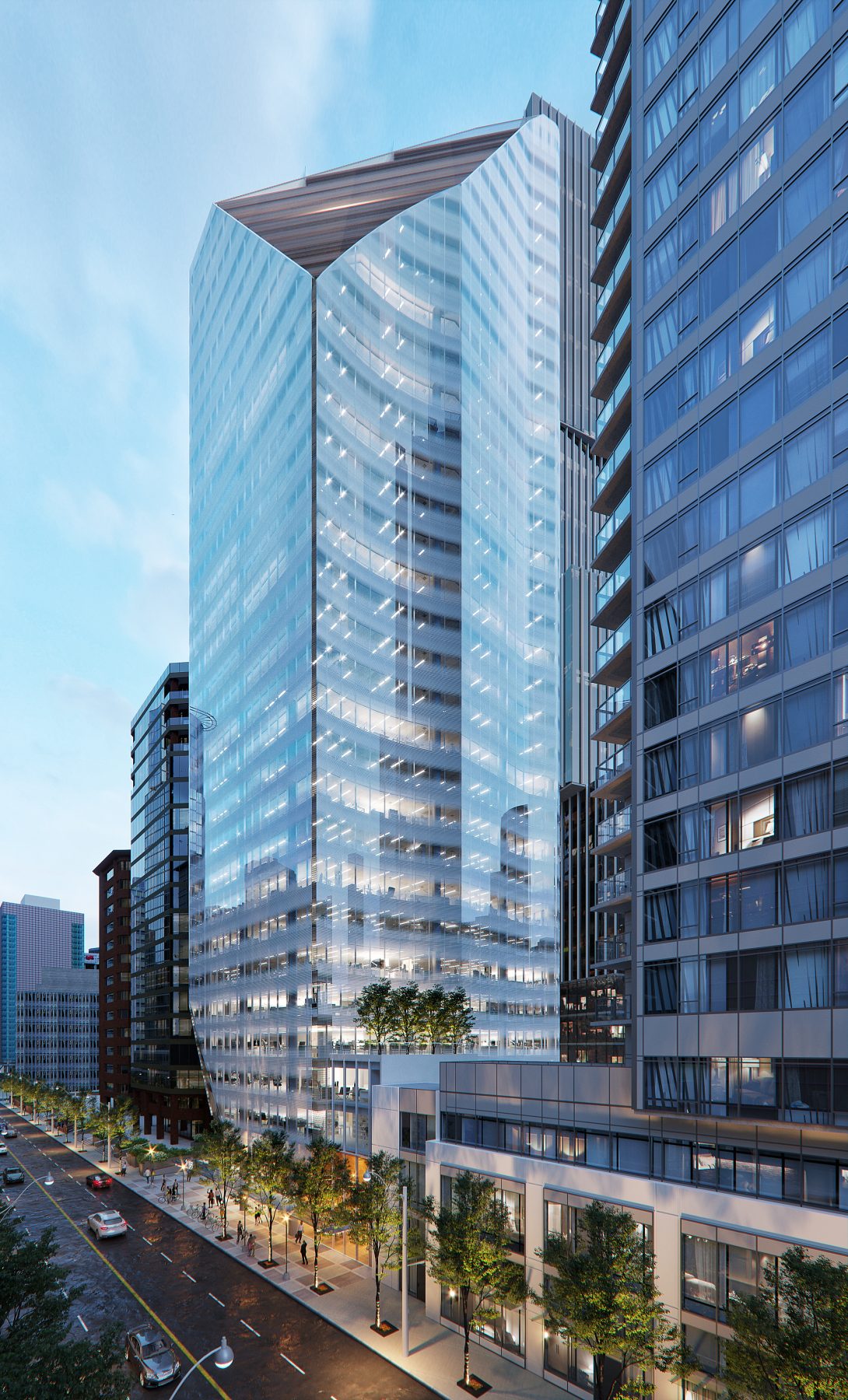 "Convex and concave exterior walls respond to the contours of the adjacent buildings to form an undulating body wrapped in ceramic-fritted curtain wall glazing," reads the project's design rationale.
"A curved white glass curtain wall affords unobstructed views and establishes a distinct character and impressive presence. The ceramic frit also reduces thermal transmission, lowering heating and cooling costs and improving the building's sustainability."
There will be a sculptural staircase that "reflects the sinuous forms" of the exterior walls that connect the upper and lower lobby space, and the sloping facade atop the tower features rooftop garden terraces that step down along the building's northeast pinnacle.
This step down was also the result of the requirement to abide to the municipal government's policy to consider the tower's shadowing impact on Harbour Green Park, located two blocks north.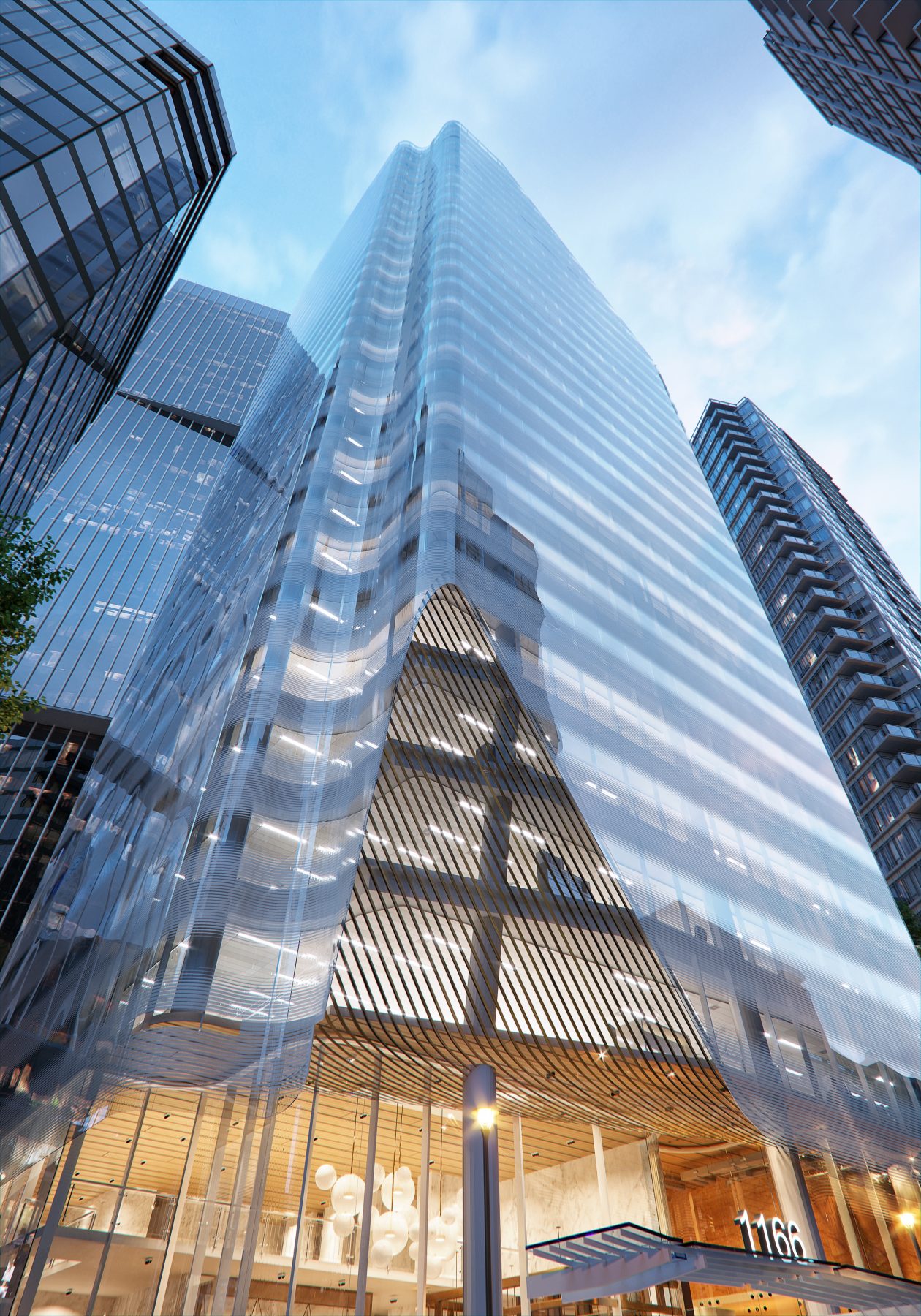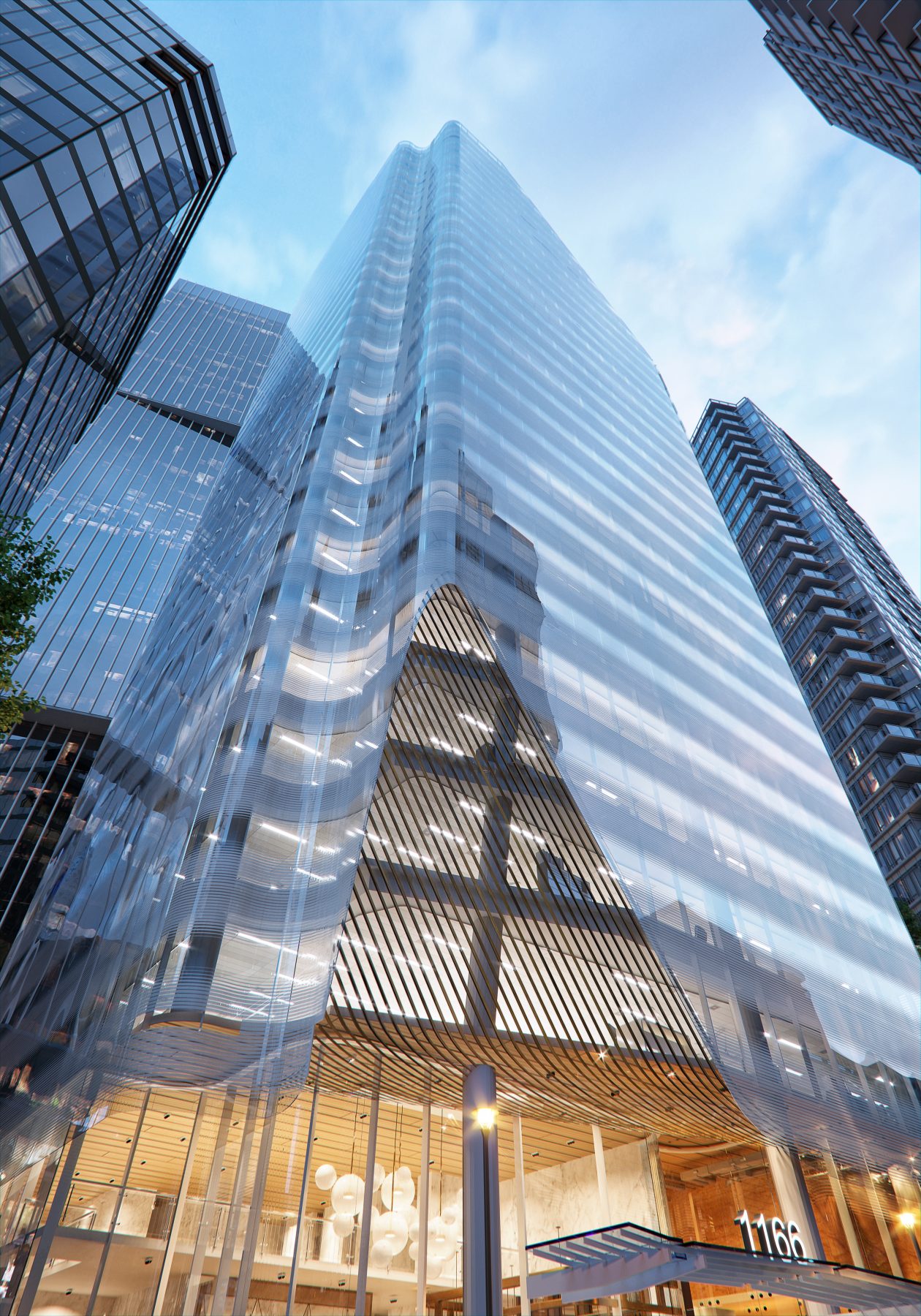 "The tower deviates from a typical rectangular form by dropping downwards in a deep wedge shape along the West Pender Street façade. Reducing shadow impact to the surrounding public realm while maintaining height, the floorplates at the top of the building are scaled down," the rationale continues.
Six underground levels will accommodate 199 vehicle parking stalls and 202 bike parking spaces.
Immediately across from this project site's laneway is The Stacks office tower at 1133 Melville Street, which is under-construction and set for a 2022 completion.
This new tower provides the local office market with much-needed new supply, given that the city's office vacancy rates of 2.6% are now the lowest in North America.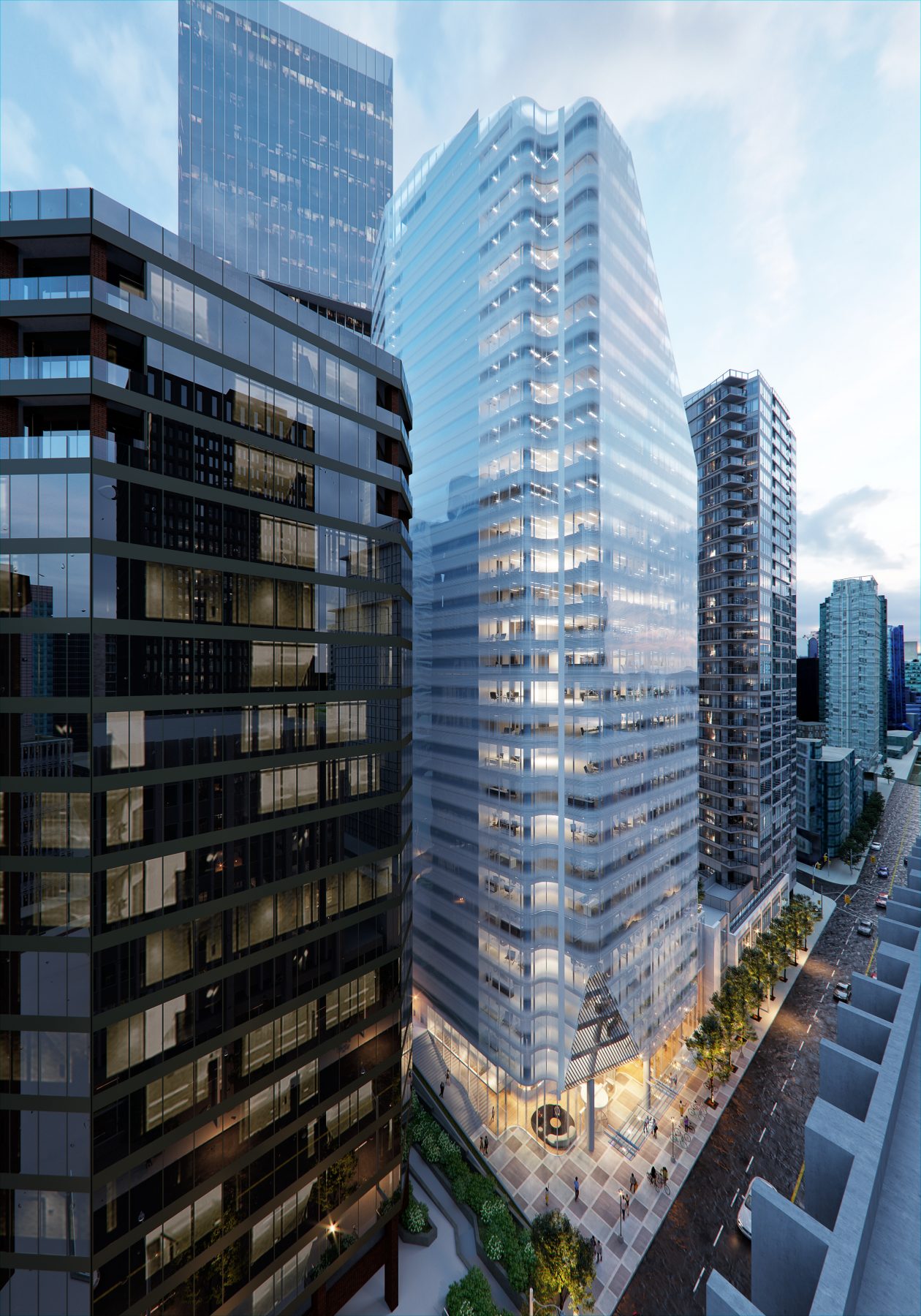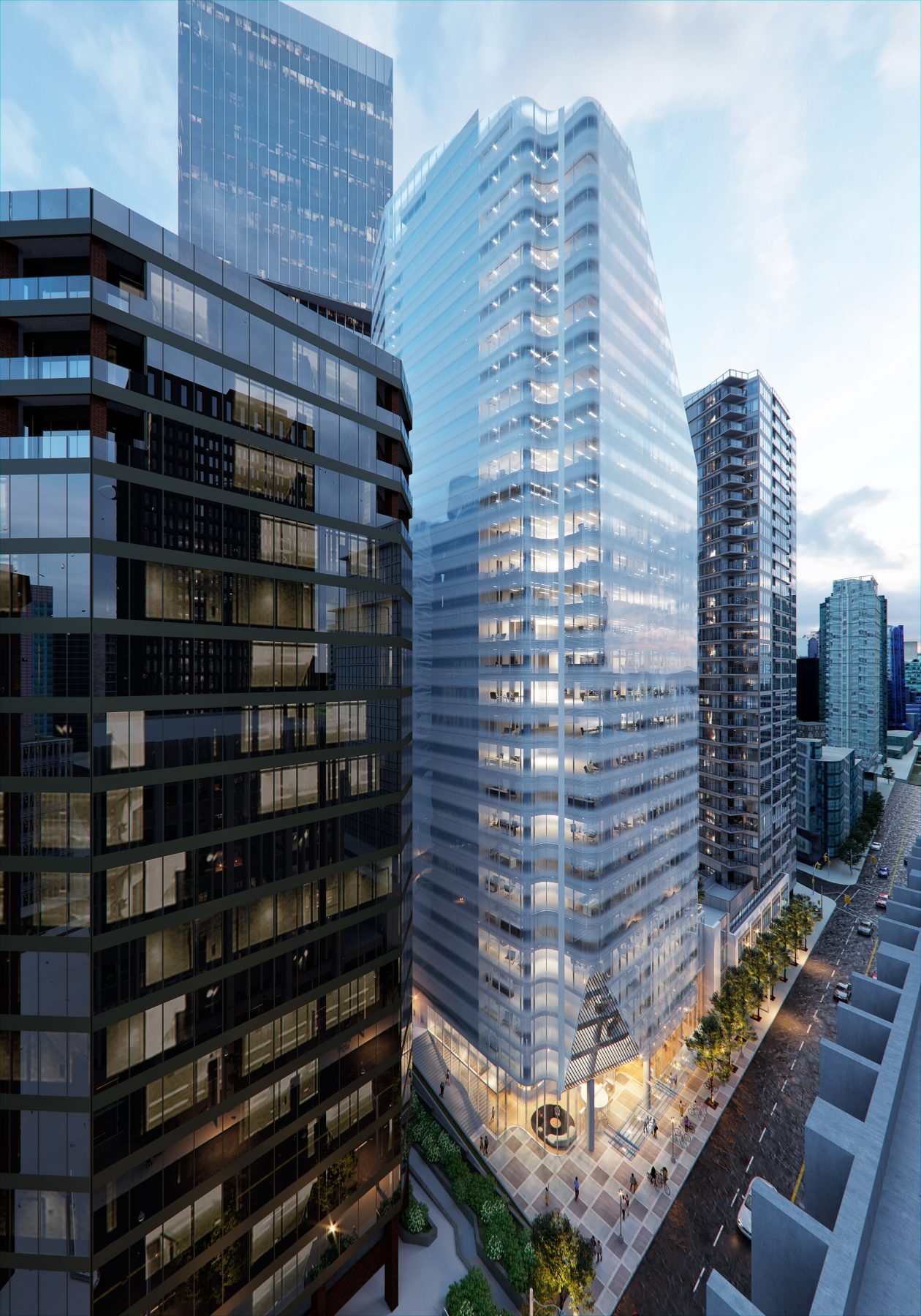 1188 Bidwell | Interiors & Amenities
Light. Air. Openness. These traits define the rental homes at 1188 Bidwell. Inspired by Pacific Northwest beach culture, island landscapes and the residential character of the West End, 1188 Bidwell's modernism and classic details create a sophisticated living experience.
Efficient plans and generous windows amplify the feeling of spaciousness and allows stunning panoramic views for all suites. The open spaces reference the sand and rock beaches with natural worn driftwood and views to distant islands across the water.
The interior architecture of each home at 1188 Bidwell has been intentionally designed to welcome your own personal living style. With built-in murphy beds and sliding-panel doorways that can be seamlessly accessed or hidden, comfort and flexibility combine to provide you with a flexible home that suits your unique needs from day to day.
True holistic design considers one's first response to a space, and then enhances and builds upon it until it extends into all areas of your home. The timeless bathrooms at 1188 Bidwell offer a moment of tranquility, from the rainfall shower to tasteful storage solutions framed in details of wood, stone, and light.
Shared amenity spaces at 1188 Bidwell include multiple outdoor terraces that create communal spaces for gathering and eating. The energy of English Bay's waterfront neighbourhood is mirrored in the building's own community of just 108 residences. With breathtaking views and sunny longtables, 1188 Bidwell offers idyllic spaces for neighbours to become friends, and friends to become family.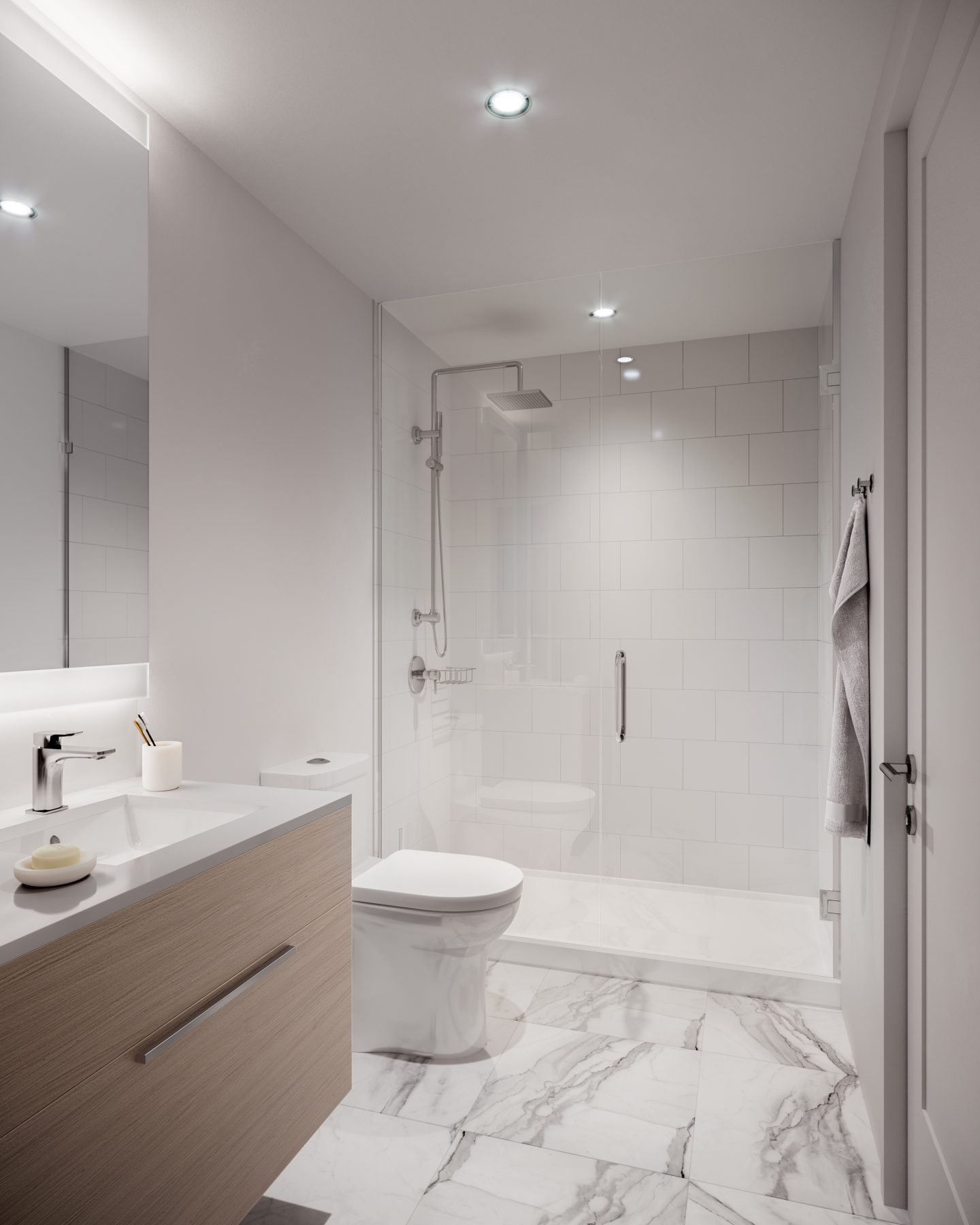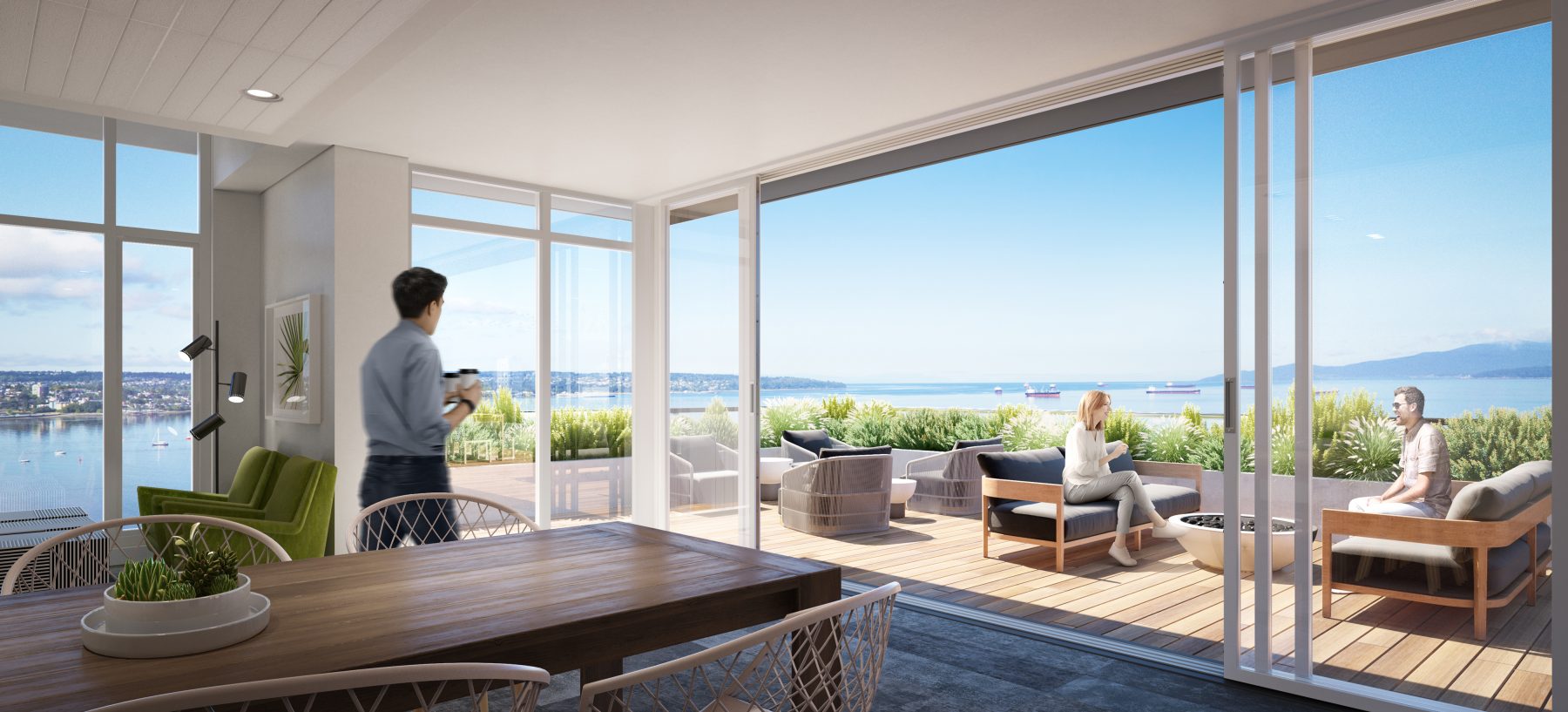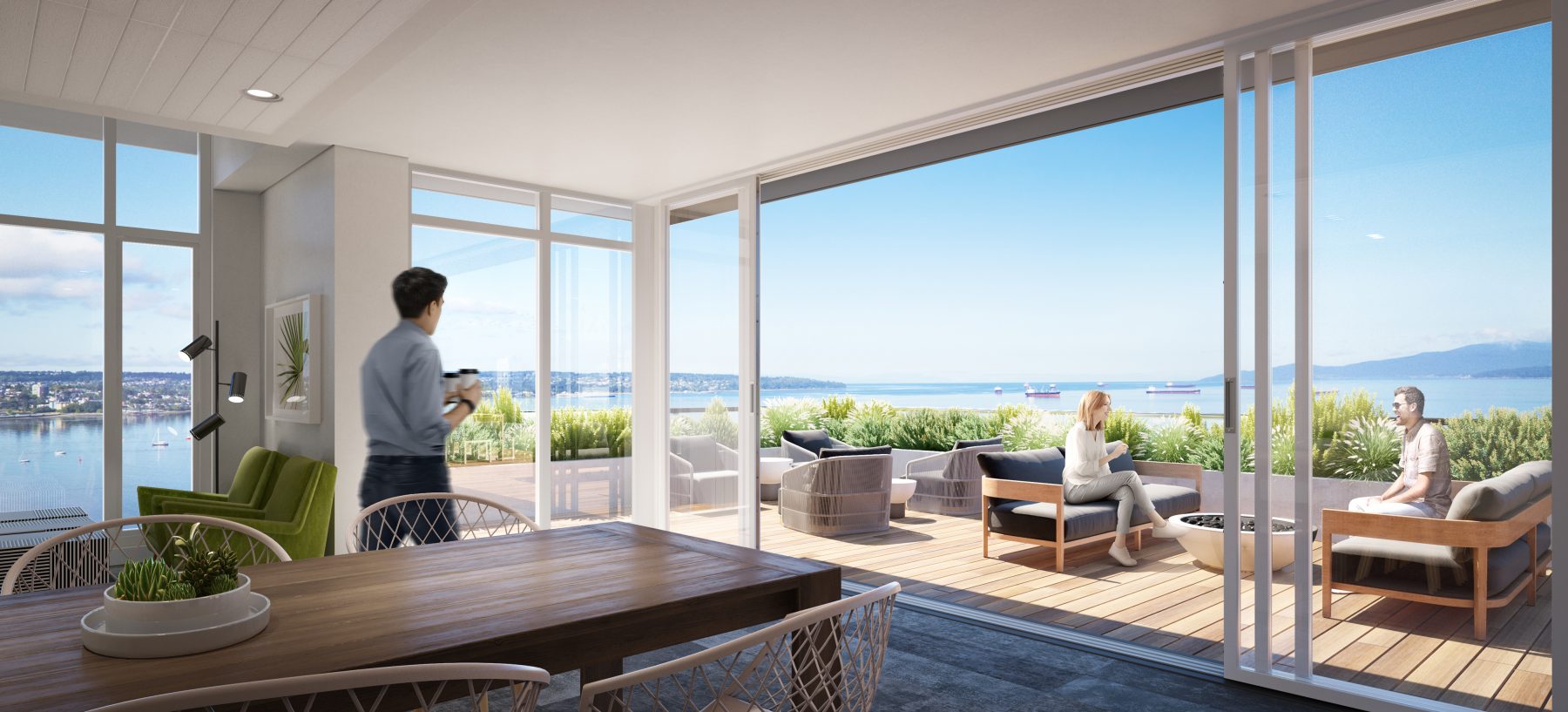 Northern Junk Pre-Application Open House
An Open House was held by Reliance on May 22, 2019 at 1607 Douglas Street to share the proposal with the community, and to gather the public's feedback prior to a formal application to the City.
Providing rental housing, the proposal will reanimate the vacant properties and waterfront that lead up to the newly built Johnson Street Bridge. The development concept envisions a multi-unit residential apartment building above the existing Northern Junk warehouse buildings. The existing buildings will be rehabilitated and incorporated into a mixed-use development. The proposed project brings together active ground-level uses, new housing options, and access to and extension of the public waterfront walkway.
1188 Bidwell | Construction Update
Construction Update
Construction of 1188 Bidwell is on track for move-in's late fall 2019. Sculpted precast concrete panels are being installed floor by floor, combining to form an impressive dimensional pattern up the building facade and define the Davie Street corridor leading down to English Bay Beach.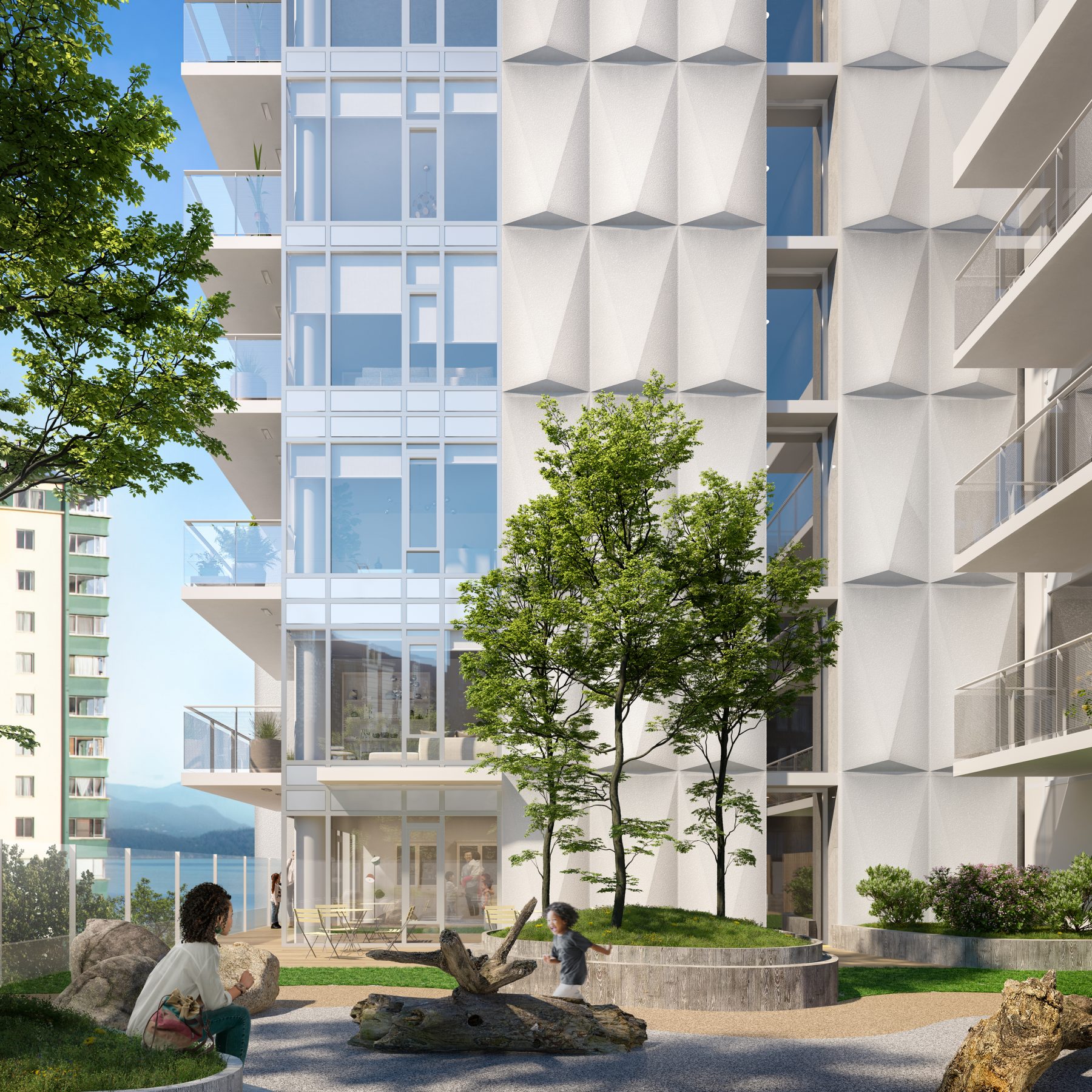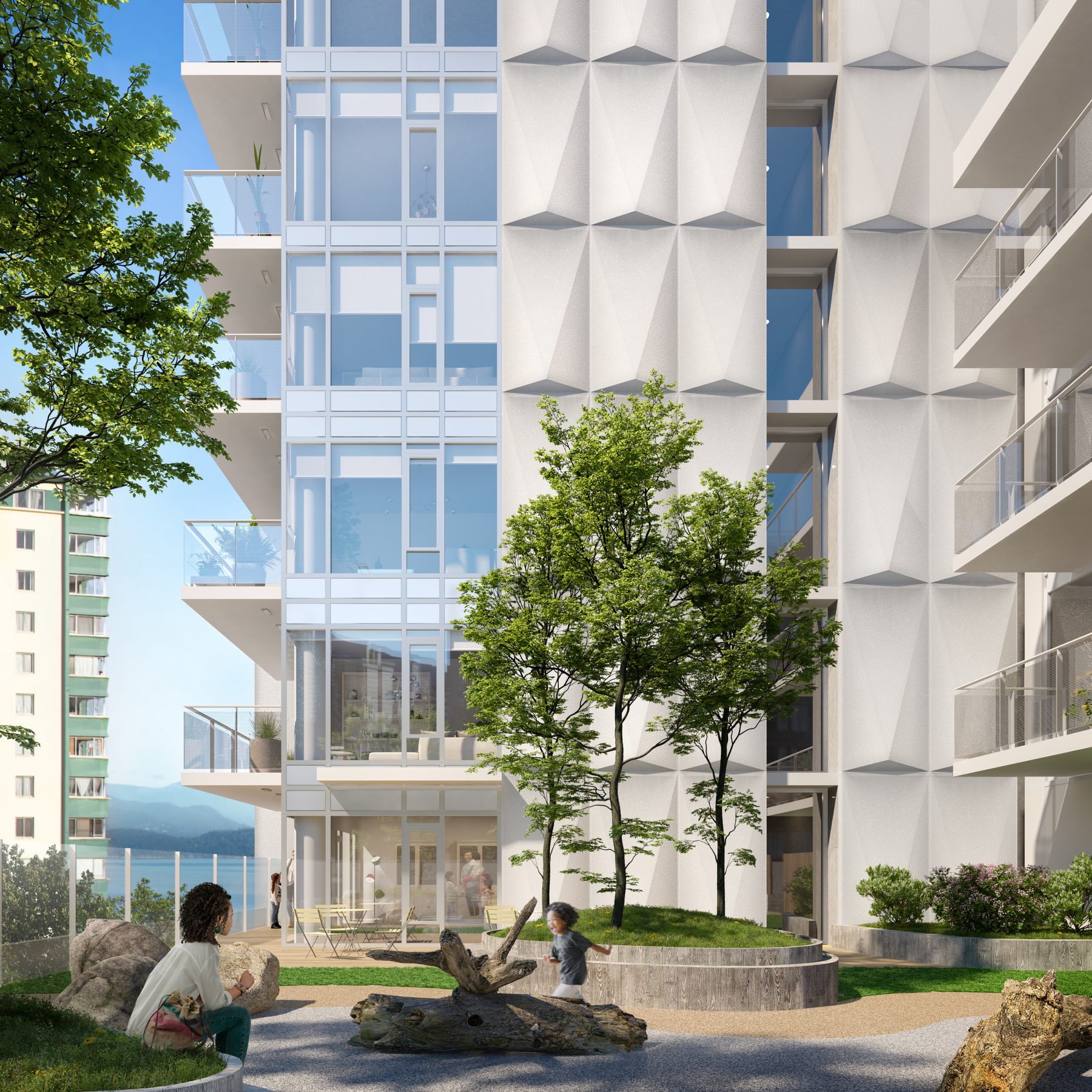 Bidwell's exterior includes 22 storeys of insulated precast panels with distinctive 3-dimensional diamond relief patterning.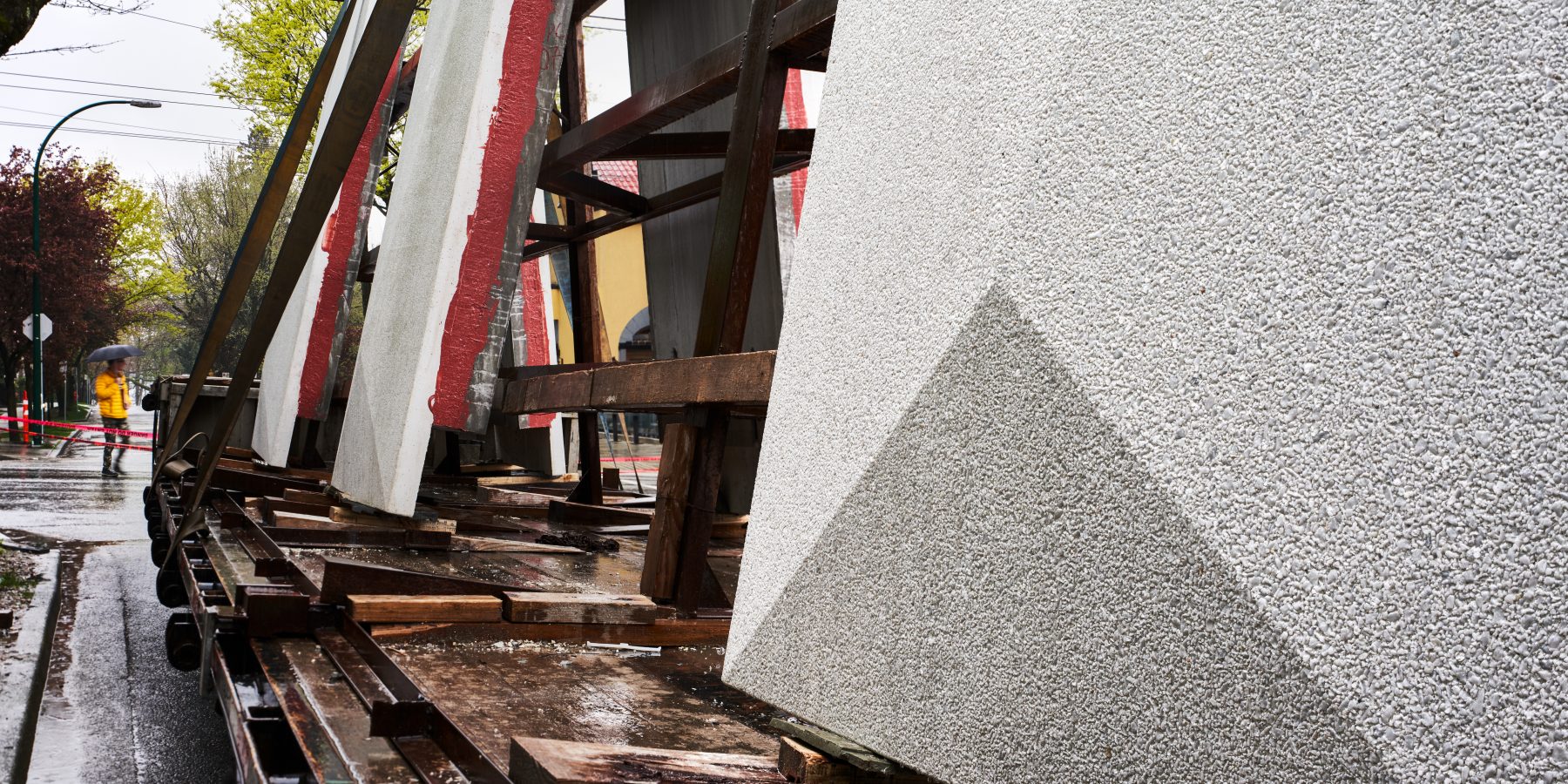 The horizontal panels span 34 feet across and weigh approximately 9,000 pounds, while each vertical concrete panel weighs up to 4,000 pounds and stands up to 14 feet high–making a formidable, iconic impression along the West End skyline.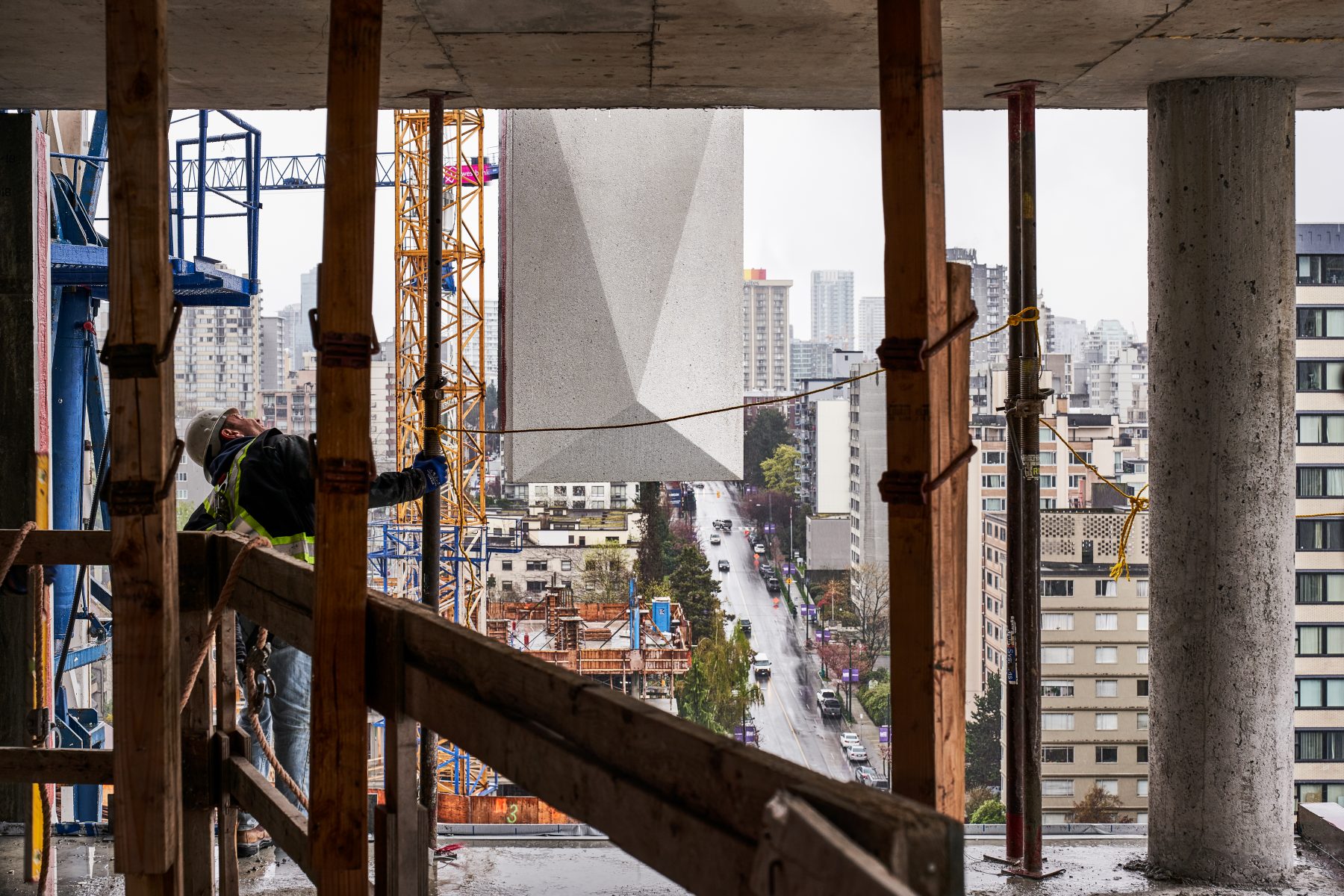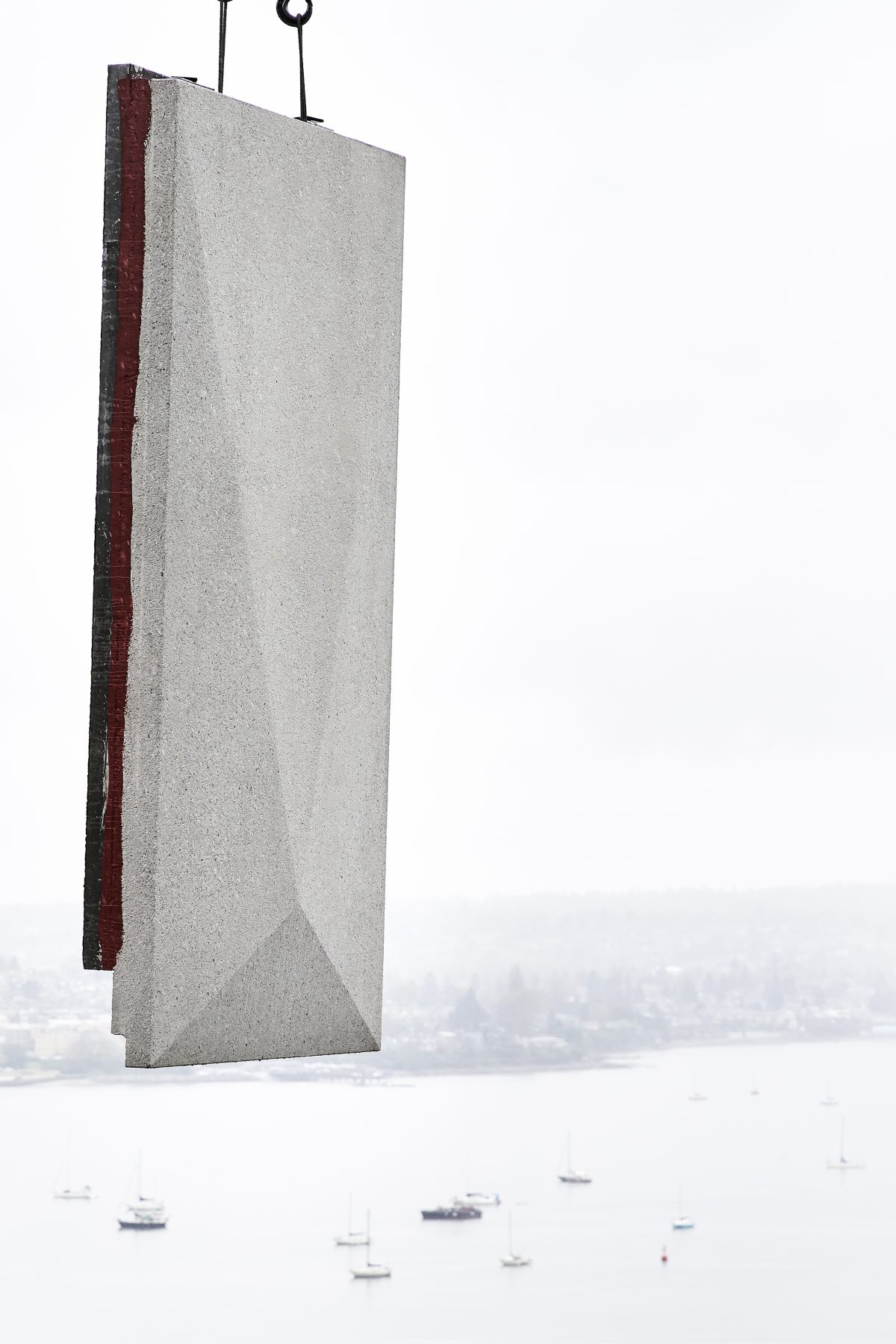 On the west side of the tower, the window wall glazing is mixed with strong horizontal spandrel, which allows stunning panoramic views for the suites that stretch across the northwest side of the building.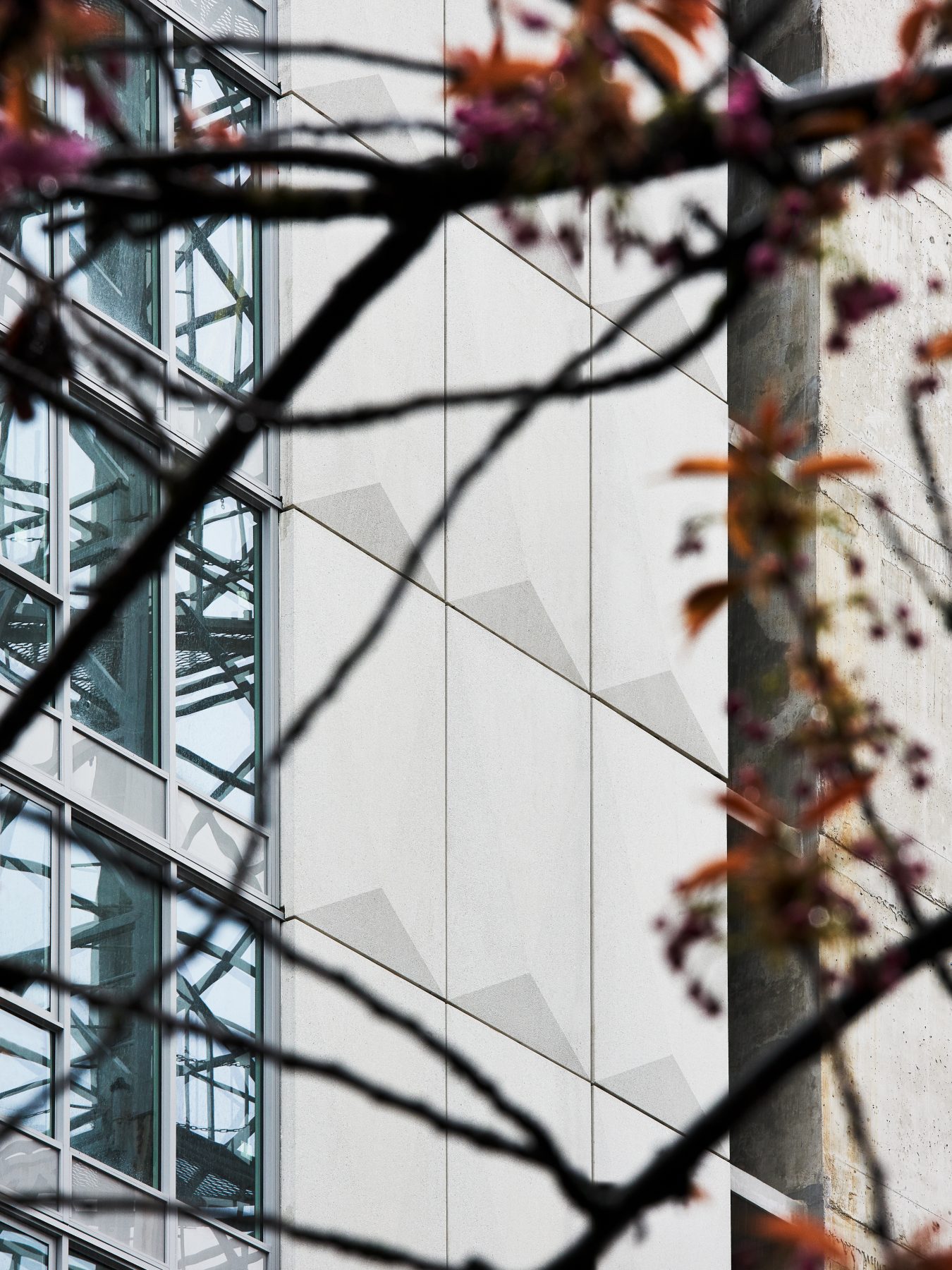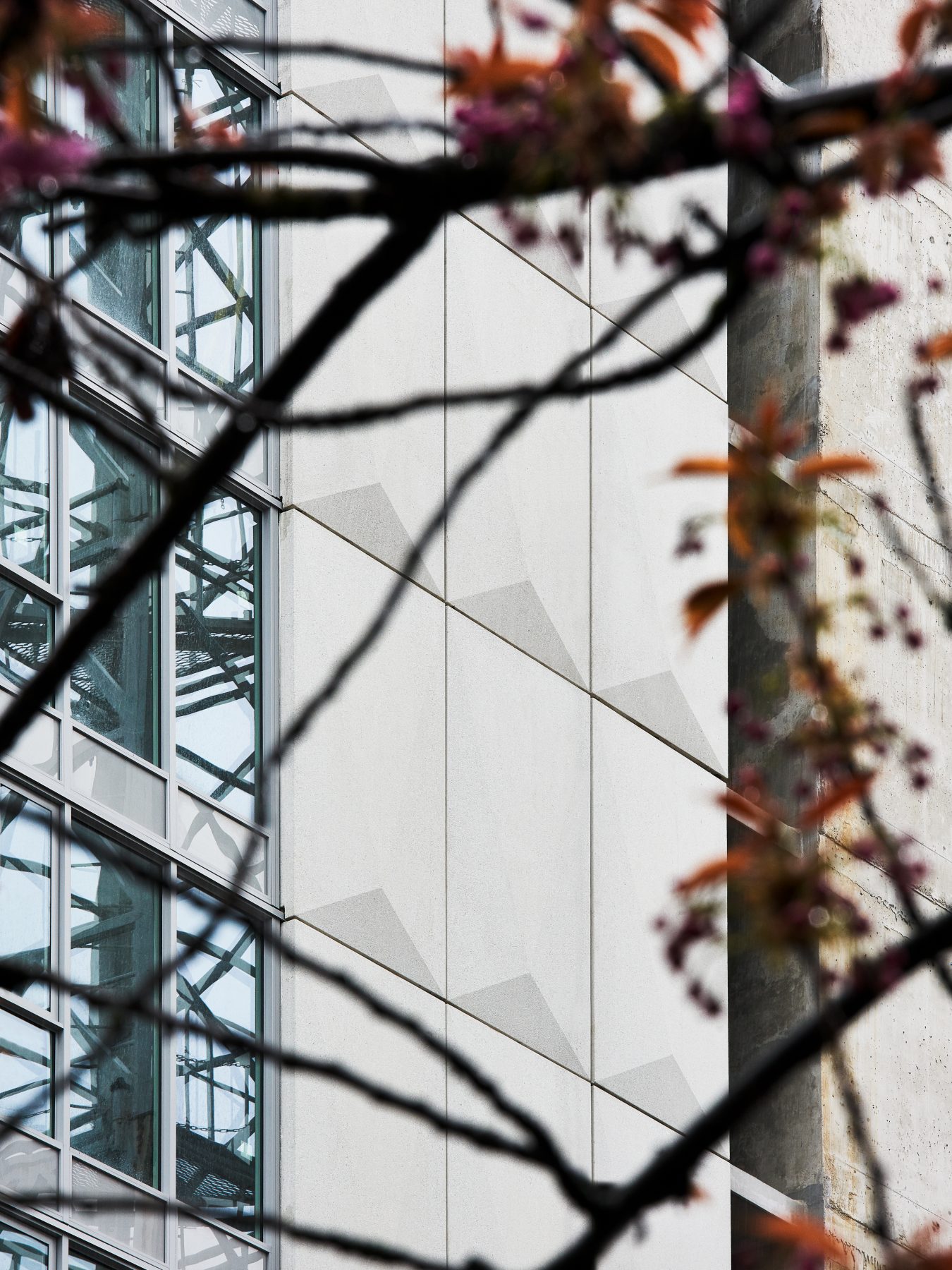 The Tower includes while precast insulated concrete panels, painted site-case concrete, aluminum panels, and use of window wall glazing. The Ground level is enhanced with curtain wall glazing while the Residential entrance is accented with precast concrete.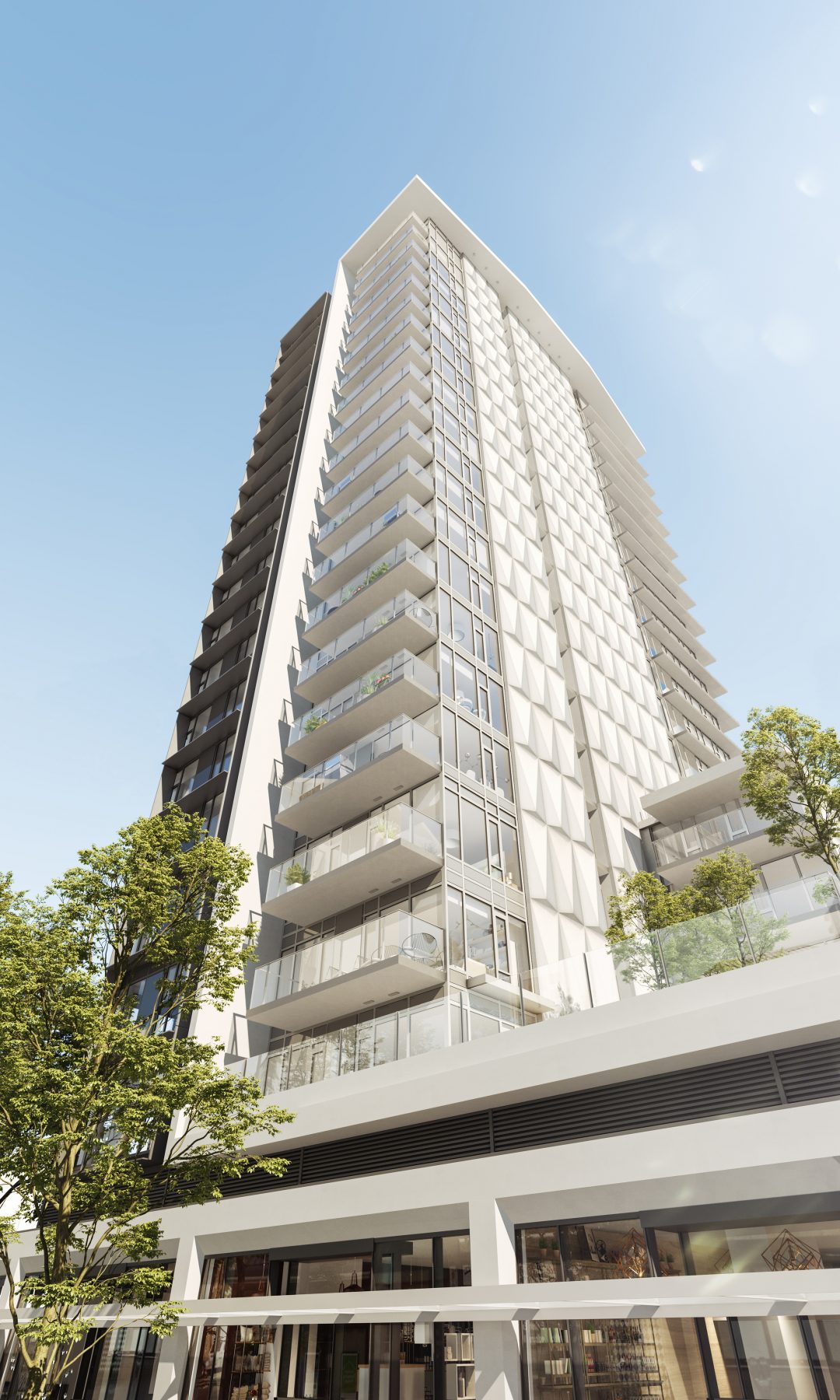 On the Street: Northern Junk developer to host open house on future plans
Times Colonist with Darron Kloster
May 16, 2019
Reliance Properties will be hosting a public information open house for the redevelopment of its Northern Junk site and heritage warehouses built in the 1860s. The revised proposal calls for 47 homes with commercial space at the base, along with adaptive reuse of the historic warehouses.
The open house is being held Wednesday from 4:30 p.m. to 7 pm., with a brief presentation by the developer at 5:30 p.m., at 1607 Douglas St., across from city hall.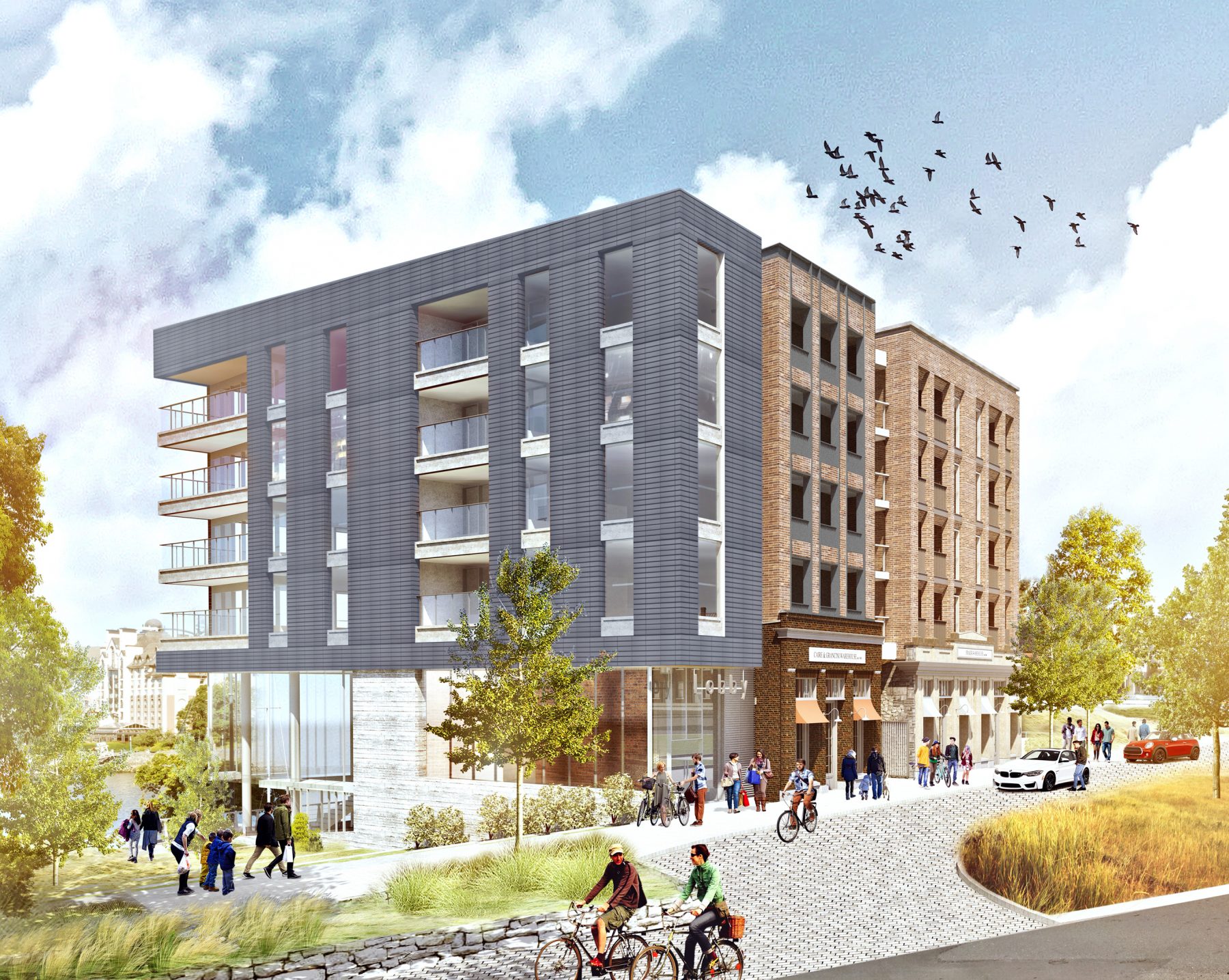 1075 W Georgia | Former MacMillan Bloedel headquarters on West Georgia changes hands
The Vancouver Sun with Gordon McIntyre
Monday, April 1, 2019
The Arthur Erickson-designed, 26-storey office tower changed hands today, purchased by a group comprising Reliance Properties, KingSett Capital and Crestpoint Real Estate Investments.
"It's an interesting building because Erickson indeed did not do a lot of office/commercial buildings," Don Luxton, senior cultural heritage advisor at Donald Luxton & Associates, said. "He was more interested in institutional buildings, universities, Robson Square and residential work, so this building is unusual."
Built in 1968-69, MacBlo wanted something bold that would project its corporate image, Luxton said.
"Erickson responded to that by stepping back on-site, not coming up to the street side. It's elegant, tall and tapered. It's recognized by the design community as having aged extremely well, an Erickson masterwork."
The renowned architect, who died 10 years ago at 84, loved concrete. He called it the "noble material" and talked of creating Doric facades with concrete, of using concrete the way classical Rome and Greece used marble.
Geoffrey Massey was also involved in the design of the building, which shows off Erickson's love of concrete and exposure of structure, Luxton said.
"Just the purity of the concrete, it's so crisp, it has such a refined sensibility," he said.
The consortium that bought the building declined to say how much they paid, but the property was assessed at $255.117 million in 2018, up 20.6 per cent from its assessment of $211.555 million the year before.
The building previously sold for $76.8 million in 1999 after Weyerhaeuser bought MacBlo.
Erickson designed cultural and institutional buildings around the world and around the Lower Mainland, including the Vancouver Law Courts, Simon Fraser University, UBC's Museum of Anthropology and the Vancouver Art Gallery.
The former MacBlo building is one of just nine office towers among the roughly 700 buildings he designed. It won several awards, such as BOMA's building of the year in 1969, the Massey medal for architecture in 1970, and Design Canada's concrete award certificate of merit in 1971.
In 1993 the city of Vancouver gave it Class-A heritage status, the highest classification, and in 2008 it was registered as a Canadian historic place.
"Seldom do esteemed office buildings go on the market, let alone a multi-award-winning building designed by Arthur Erickson," Jon Stovell, president and CEO of Reliance Properties said. "For Vancouver, this is a very important building.
"It gives the impression of the solidity of heavy timbers the way it is slender and tapers on up."
The building, almost 350,000 square feet, is fronted by West Georgia, Thurlow and Dunsmuir, and Erickson was forward-thinking enough to include a sunny south-facing pedestrian mall.
It is a bit different from Reliance's other heritage properties, mostly in Gastown and Yaletown.
"It's a really significant fit for us to have this heritage building," Stovell said. "It's relatively new compared to (buildings built in) the 1800s, but it is heritage.
"We have a large heritage portfolio and we love to renew these heritage buildings, love restoring them, and this new ownership group will honour this building's iconic heritage status."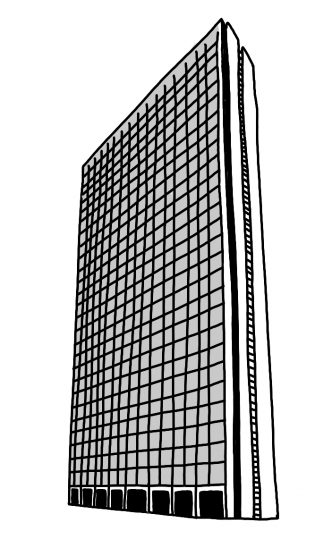 1188 Bidwell | A Location Story
There are very good reasons why—a century on—the West End remains one of Vancouver's most desirable neighbourhoods for rentals.
While Yaletown and Coal Harbour have their virtues, they have no beaches. The West End features Sunset, English Bay, Second and Thirds Beaches . A quiet snooze on the sand, an active game of volleyball, or just watching the sun sink above Vancouver Island, there is a beach for everyone. Furthermore, those other neighbourhoods have nothing approaching the range of passive and active recreation possible in nearby Stanley Park, one of the world's greatest downtown green spaces, combining formal parks brimming with facilities and a proud stand of West Coast rain forest.
Denman Street has become one of Vancouver's most competitive—hence good value—locales for restaurants, with a dozen international cuisines available along its entire length between Beach and Georgia streets. "Davie Street's dining choices improve by the week, but it also hosts grocery stores", personal services, nightclubs and the varied programming of the Vancouver Centre for Dance and the Vancity Theatre for art films.
With Roedde House and Barclay Heritage Square, plus the conserved block of Edwardian houses at Mole Hill, the West End is one of the few Vancouver neighbourhoods to conserve and renew memories of its urban past.  One tires of a plastic, green-glass, grey-concrete instant city; the West end is the real Vancouver, an authentic urban neighbourhood with character and history.